11-12 November 2023
Tolworth Showtrain is our Society's annual model railway show in November. It is one of the largest shows held in the South East.
It takes place over two days and across three halls at;
 Tolworth Recreation Centre
Fullers Way North, Tolworth, Surrey, KT6 7LQ.
Saturday 11 Nov 10.00am - 5.30pm [1]
Sunday 12 Nov 10.00am - 4.00pm [1]

[1] Please Note: These times may be different from those previously advertised
PRICES
Adult
£9
Child
£3
Family 2+2
£19
Sunday Special
One child free with every paying adult
Cash and card payments for entry will be available.
Facebook Event Page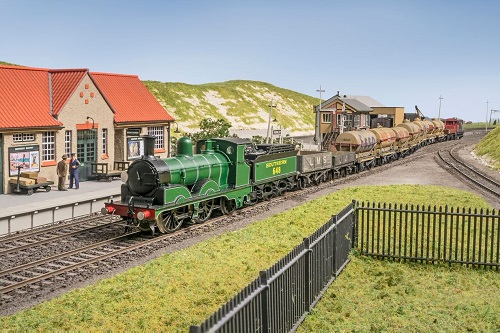 We have a large selection of layouts attending, representing different eras, scales, regions and countries, along with traders with stands selling every conceivable model item from the smallest piece of scenery to the grandest of steam engines.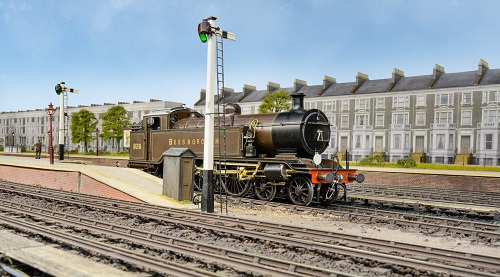 We also usually arrange to have some experienced demonstrators on hand to provide tuition on scenic modelling skills, and children may operate one of the Society's most popular models, Edward's Junction and Thomas End.
Layouts
Albula Valley
N
Swiss
Blackmoor
OO9
Lynton & Barnstaple narrow gauge
Canute Road Quay
OO
Southern Railway 1946-1949
Clearwater Harbour
On30
1930s-40s Northern USA
Collingwood
4mm
UK Southern
Ebsworth Street
OO
2000 to Present day
Edwards Junction and Thomas End
4mm
Sodor
Fawley
4mm
1930s Southern Railway
Folly Lane
4mm
1990s UK [1]
Hazel End
O
Steam 1920/1960 LNER Southern
Japan in Bloom
N
East Japan Railways
Johnburg
HO
1950s Ohio & Baltimore
Kensington Addison Road
7mm
1925 West London Line
North Cornwall Brewery
4mm
1966 SR
Old Elm Park
O
SR/WR
Pine Bluff and Red Dot Mine
3.5mm
1950s Santa Fe USA
Redbridge Wharf
OO
UK Southern
Roshven
OO
Scottish Highlands BR Scotrail
Sewel
N
Early 20th Century East Sussex Brewery
Wickwar
N
1950s BR(M)

[1] Folly Lane is unable to attend in 2023, we hope to see them at a future show!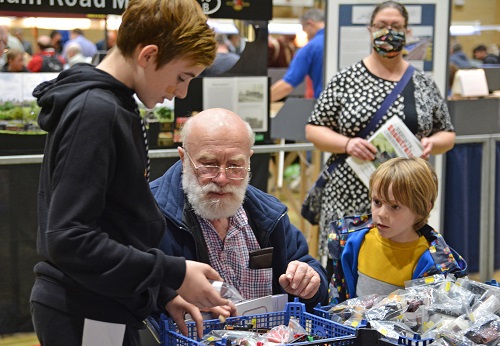 Demonstration Stands
Scenic Modeling
Soldering for Beginners
Society Stands
4SUB Association
Hampton and Kempton Waterworks Railway
Malden District Society of Model Engineers
Medway Queen Preservation Society
Model Electronics Railway Group
Network Southeast Railway Society
Railway Correspondence and Travel Society
South West Circle
Travelling by public transport
The venue is a 1.6 mile walk from Surbiton Railway station or a 1.3 mile walk from Tolworth Railway Station.
As well as the free shuttle bus from Surbiton Railway Station (see below) there are also many TFL busses that travel near to the venue;
From Kingston: 71 / 281 / 406 / 418 / 465 / K1 / K4
From Dorking: 265
From New Malden: 265 / K1
From Chesington: 71
From Epsom: 406 / 418 / 467 (Sat)
From Putney: 265
Free Shuttle Bus from Surbiton Station
We are operating a free bus link between Surbiton Station and the show. Travelling between Surbiton Station Bus Stop NN (Bus Stop NP for 4 journeys on Sunday) to the layby on the A3 next to Tolworth Recreation Centre.
Please note: The stop at Tolworth Recreation Centre is different from previous years.
Saturday 11th
Surbiton Stop NN
to TRC
09:45 10:10 10:40 11:10 11:40 12:10 12:40 13:55 14:25 14:55 15:25 15:55 16:25
TRC to
Surbiton Stop NN
10:25 10:55 11:25 11:55 12:25 12:55 14:10 14:40 15:10 15:40 16:10 16:40 17:20
Sunday 12th
Surbiton Stop NN/

NP


to TRC

09:55 10:25 10:55 11:25

11:55 12:25 13:40 14:10 14:40 15:10
TRC to
Surbiton Stop NN
11:10 11:40 12:10 12:40 13:55 14:25 15:25 16:00
Note:- Whilst every effort will be made to maintain this timetable, delays may be incurred due to traffic conditions. In the case of extreme late running a service may be cancelled to restore the timetable.
Travelling by car
Tolworth Recreation Centre is within the London Ultra Low Emission Zone (ULEZ), people travelling to the venue by private transport will have to have a compliant vehicle or pay a charge to drive for that day. The vast majority of vehicles are compliant with the emissions standards. Check your vehicle here.
There is parking on site at Tolworth Recreation Centre and additional parking at the Advantage Children's Day Nursery on the same road as the TRC, Fullers Way North, approximately 400m away.
Where we are